Posted on 14. Feb, 2012 by Danielle Reed in Digital Marketing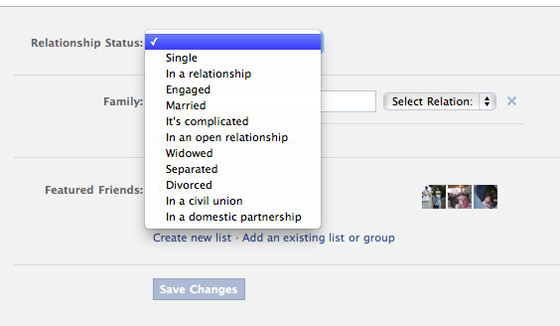 What is your anthem when switching your relationship status to 'single' ? Do you have a break up anthem ? Or are you 'In a relationship' ? What's your favourite song for setting a romantic ambience ?
The love birds at Spotify have teamed up with the romantics of the Facebook analytics team to give us the top songs that people listen too around the time of updating their relationship status.
Loved up Facebook members who had just entered into a relationship rated Jason Derulo in the top spot with his hit " Don't Wanna Go Home". Facebook members who have made their 'Single" status Facebook official most commonly listened to "The Cave" by mumford and Sons.
The playlist's were presented by Jonathan Chang , member of the Facebook Data Team, in an official post's on the team's Facebook page.
Songs people listen to when entering into a relationship:
"Don't Wanna Go Home" by Jason Derulo
"Love On Top" by Beyoncé
"How to Love" by Lil Wayne
"Just The Way You Are" by Bruno Mars
"Good Feeling" by Flo Rida
"It Girl" by Jason Derulo
"Stereo Hearts" by Gym Class Heroes featuring Adam Levine
"Criminal" by Britney Spears
"No Sleep" by Wiz Khalifa
"Free Fallin'" by John Mayer
Songs listened by people after ending a relationship:
"The Cave" by Mumford and Sons
"Crew Love" by Drake
"All of the Lights" by Kanye West
"Rolling in the Deep" by Adele
"Take Care" by Drake
"It Will Rain" by Bruno Mars
"We Found Love" by Rihanna & Calvin Harris
"Call It What You Want" by Foster the People
"Love You Like a Love Song" by Selena Gomez and the Scene
"Without You" by David Guetta featuring Usher